Recent News
February 2018
Church Banister Update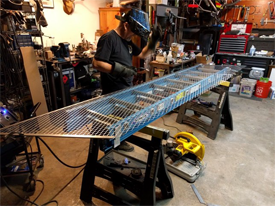 Here you can see our friend Doug working hard welding our banister panels. Doug is a gifted expert and we are so lucky to have his help! We drilled holes in the angle iron for mounting, prepped and painted. We bought a couple more lengths of U-channel for the edges, and finished welding the rectangles for the landings at the top of the stairs.
The church emergency stairway banisters will be finished soon. Don't they look great? Sometimes, it takes a village! Thank you to all who helped cut, weld, paint, drill, and bolt! If you signed up to sponsor a panel, please get your check into the church! Your sponsorship and help is much appreciated!
Yours in Faith,
The Trustees
Lenten Study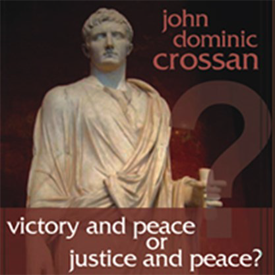 Beginning Monday, February 26 and continuing four consecutive weeks, Rev. Seargeant will lead a DVD-based discussion, using John Dominic Crossan's "Victory and Peace or Justice and Peace." This study is produced by Living the Questions.
We will offer the class on Monday evenings from 7-8:30 p.m. and Wednesday mornings from 10-11:30 a.m. Each session will feature a lecture by Crossan, interspersed with questions from the study guide. There is no "extra" reading required.
If you are interested, please see the sign-up sheet on the bulletin board or call the church office, so that we know how many to expect.
Ash Wednesday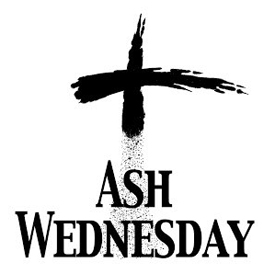 Wednesday, February 14 is Ash Wednesday, the beginning of the season of Lent. On that evening there will be an informal worship experience at 7:00 p.m. Our service will include a voluntary imposition of ashes on the forehead. We anticipate ending before 8:00 p.m.
Be Impressed!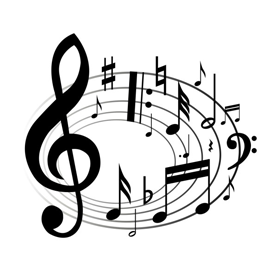 A concert of Impressionistic music will be presented here at CUMC, Tuesday, February 27, at 7:30 p.m. .The concert will be sponsored by the Pomona Valley Musicians' Club and will feature our expanded choir, organ, piano, soloists, English horn, and harp. Music of Faure, Ravel, Debussy, and McDowell will be heard. This impressive concert is free, with a gala reception to follow.
Choir Member of the Month—Michele Houska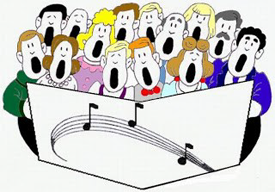 Our newest choir member, Michele Houska (pronounced Huska) has jumped in with both feet. Not only did she join the choir, but she joined the church! This is no surprise, since she has been singing in school and church choirs since second grade. She also played flute in high school.
Michele was born in South Dakota and lived in the Dakotas, Minnesota, and Wyoming before moving to California in 1968. She attended the University of Redlands and Cal State L.A., earning degrees in German and Education, as well as elementary and secondary credentials in German, Math, and English. Michele and Charles Houska were married in 1976 and raised two sons, Jeremy and Neal. Husband Charlie passed away in 2010.
Today, Michele teaches Math at Don Lugo High School, having taught years of German besides. She enjoys gardening, cruises, concerts, and puns!! (which she happily shares with the choir). She is well-traveled, having visited extensively throughout the United States, and much of Canada, Mexico, South America, England, Scotland, Germany, Austria, Switzerland, and France.
So, introduce yourself to this fun, interesting, and accomplished lady.